ZoneAlarm Free Firewall is a powerful tool that acts as a barrier between your computer and the internet. It monitors both incoming and outgoing traffic and filters out harmful connections that it believes to be system exploits and breaches.
For the majority of users who are not proficient in technology, a firewall is now a necessity. This is because as system operating systems and the global internet advance, such as with the arrival of web 2.0 and 3.0, cybercriminals are also becoming much more sophisticated in their schemes and are breaking into user systems more quickly and covertly than ever.
Due to the fact that a firewall acts as the internet's antivirus and that putting it up doesn't require much of your time compared to the harm that a malware breach may cause, a firewall is crucial as the second line of protection.
Why ZoneAlarm Firewall?
It is crucial that you pick the strongest and most powerful firewall tool when selecting one to serve as your first line of defense online in order to maximize the security of both your computer and your online presence.
Here are a few reasons why the ZoneAlarm firewall is a useful tool, why it stands out, and why you should use it.
Strong and advanced firewall security
Even in its free edition, the ZoneAlarm firewall delivers very effective and advanced two-way security, primarily by continuously monitoring all incoming and outgoing computer traffic.
ZoneAlarm not only keeps an eye on internet connections, but it also conceals your computer's network from hostile hackers, rendering it invisible to them.
As a result, virus attacks are avoided altogether because hackers cannot discover your machine. Furthermore, the program itself has the ability to stop connection-based malware attacks like spyware and keylogging by transferring the information it has gathered from your computer to the malware actor's device.
Your computer is completely protected from data breaches caused by surveillance tools used by cybercriminals. ensuring that as long as you have ZoneAlarm Firewall, both your personal data and your online experience will be secured.
Advanced anti-bot safeguard
With this cutting-edge technology in place, your network and computer will be protected from automated intrusions like bot attacks.
This functionality will provide accurate, real-time detection and round-the-clock blocking of dangerous bots. By doing this, the system will be shielded from malicious malware and botnet intrusions.
Ensuring that your computer is protected from a variety of malware-related problems, including spam, malicious data theft, ransomware, and even blocking access to your network from both suspicious and malicious websites that it believes to be hazardous and unsafe to visit.
This feature is similar to an antivirus program in that it can identify harmful software, but it also acts as a firewall, which enhances its effectiveness because malware attacks are frequently initiated by malicious website software downloads or hacker attacks that compromise a network.
Reputable and well-known firewall program
The ZoneAlarm firewall is a well-known and highly respected firewall program in the online world, and many professionals also suggest it to people looking for a powerful firewall solution to secure their computer network.
It is reasonable to state that with the amount of knowledge they have, they can build an excellent product to give consumers in order to secure their devices.
Their company has been there for more than 20 years, giving people internet security software such as antivirus and firewall products.
Likewise, we think that if people wish to safeguard their computers, ZoneAlarm Firewall is a fantastic example to utilize. Except if you choose to purchase the premium version with extra features, their program is free to use.
Other than ZoneAlarm, the only other firewall software we recommend is Comodo Firewall, which is also a reputable program and provides robust security.
ZoneAlarm Firewall features
There are some exclusive features of ZoneAlarm Firewall that some other programs lack that are only accessible through the application. The firewall application's features and what to anticipate and see after downloading it are listed below.
Modern and simple user interface
One feature that sets ZoneAlarm apart from other firewall programs is its gorgeous and straightforward user interface.
When the software has finished downloading and installing, you will be greeted by the primary application, where the majority of what you will see is a green circle indicating that your device is secured.
That's pretty much it; it's straightforward and keeps you safe. The program will display the settings for any additional ZoneAlarm apps you may have, and the settings tab is similarly straightforward, offering only the firewall settings you actually need to know.
Easy to use and user friendly
The program itself starts working as soon as you install it, and the installation process is also very simple. The firewall will be instantly activated on the network and start monitoring it as soon as the setup is complete.
There isn't much that users need to adjust in order for things to function, and the settings of the application are simply two toggles for turning on and off the firewall and the feature that automatically blocks bots.
The network security level can be set under the firewall's settings, which only have a few additional settings. Depending on public networks and trusted ones, you can change your security level to off, medium, or high under the main firewall settings.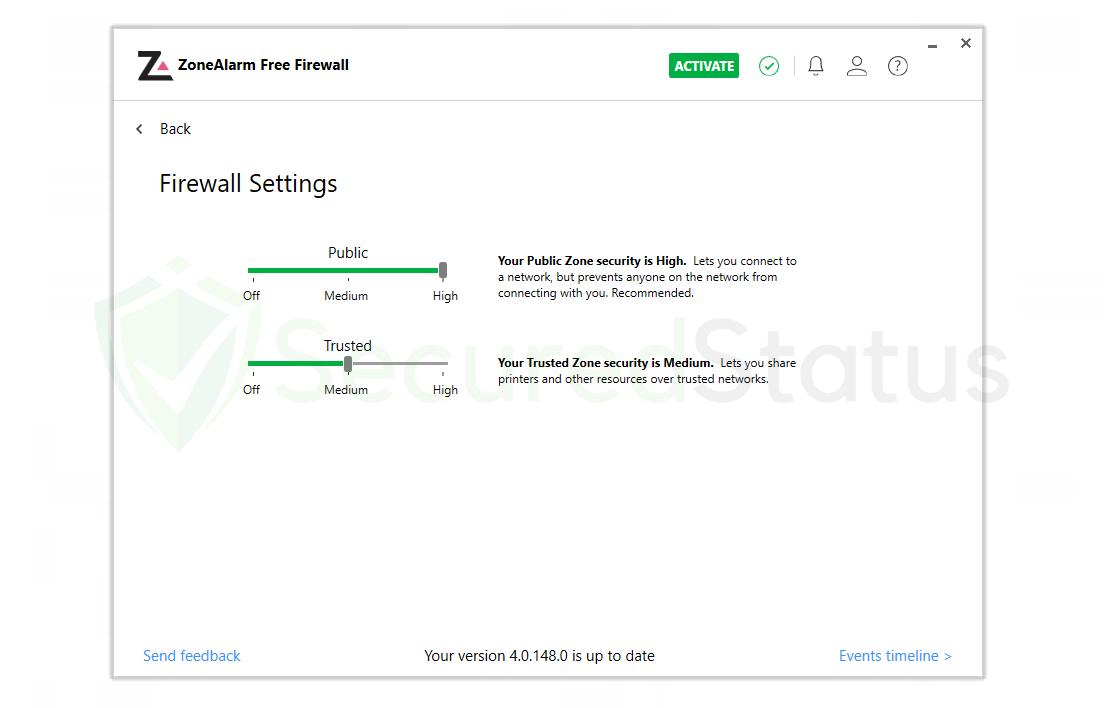 Because harmful hackers frequently pretend to be public free WiFi, public networks will by default have high security levels, so this option is essential.
Additionally, even though you are on the same network, it stops anyone from connecting with you. Since you and your loved ones are probably the only ones using the WiFi, you can set the trusted network setting to medium. You are enabling them to share printers and network resources by using the medium.
Integration with other ZoneAlarm applications
The options on the firewall software's bottom that are grayed out might have caught your attention. If you have those additional ZoneAlarm products installed on your computer, you can actually access them through the current application you are using.
You can be sure your device will be as secure as possible because all of their security mechanisms are built into one each other's apps. However, not all apps may be downloaded for free; antivirus software, for example, has a licensed version that costs a few dollars to purchase.
However, if a firewall is all you require, such as if you already have antivirus software from a separate provider like Malwarebytes or Kaspersky, then you do not need to be concerned. ZoneAlarm is already a strong standalone firewall and will not require additional programs to provide protection.
Click here to access the ZoneAlarm firewall download website, where you can start by downloading the setup file to install the firewall program on your computer.
2. You will be directed to a page with instructions for installing the software after starting the download of the setup file. Additionally, your browser will begin to download the file. Click the executable file to start launching the setup wizard after the file has finished downloading, which should take only a few seconds given its small size.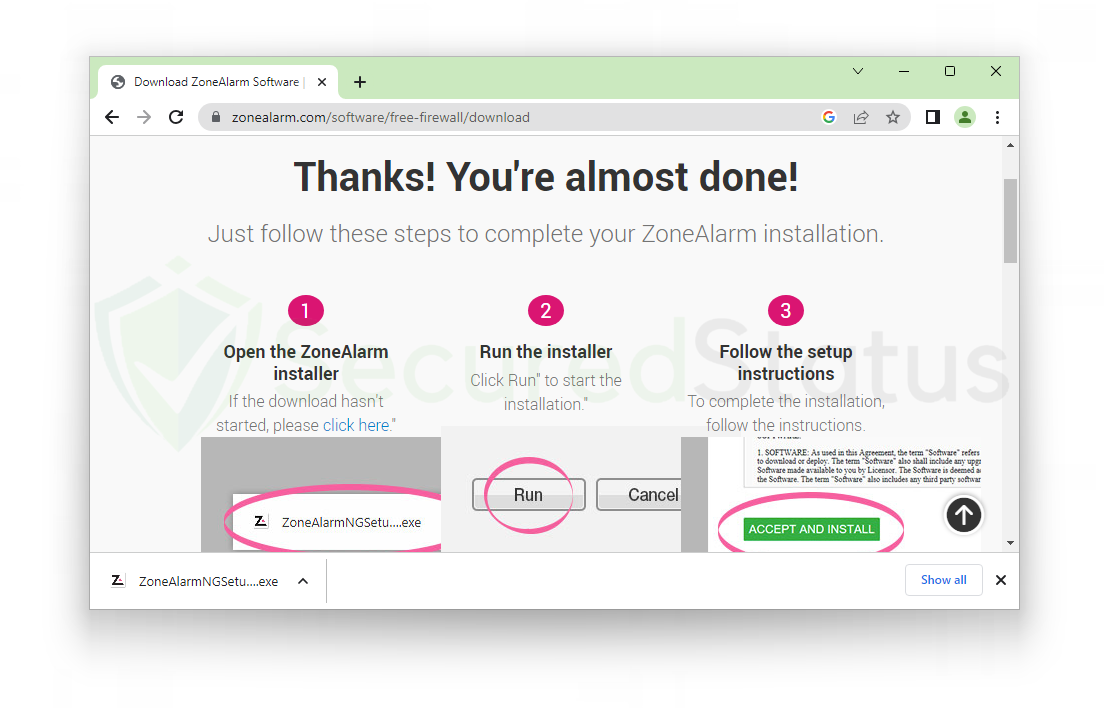 3. You will be presented with a User Account Control window after clicking the executable file, asking you if you wish to allow Check Point Internet Security to make changes to the device. To ensure that the ZoneAlarm firewall installation will go without issues, click Yes to continue with the installation.
4. The ZoneAlarm setup wizard will now launch on the PC and display a progress bar for installing ZoneAlarm. It will first start downloading, which could take a while depending on how fast your internet is. Then it will proceed to install, and both should be finished in a matter of minutes.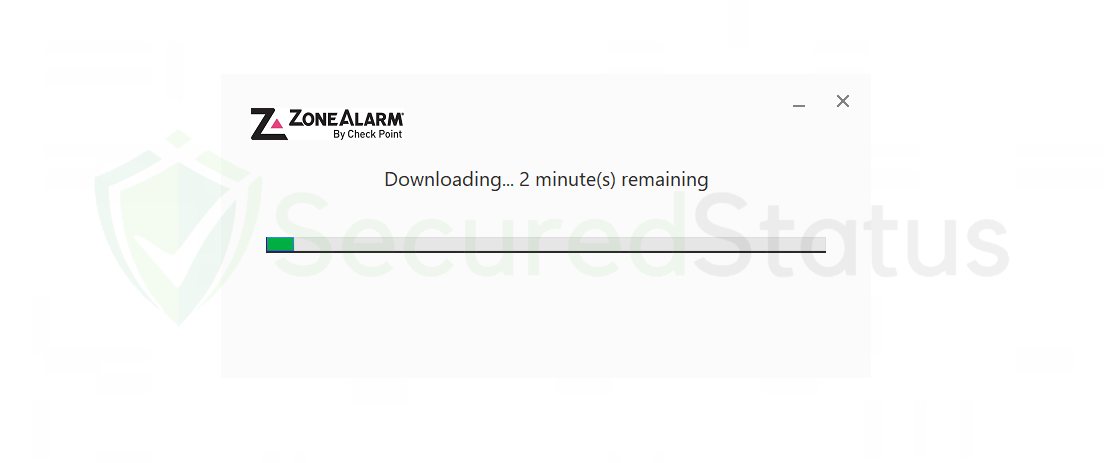 5. When installing the ZoneAlarm firewall, a licensing agreement window will appear with the terms you must accept. Read the information displayed carefully, and if you agree, click Accept and Install to carry out the application's installation.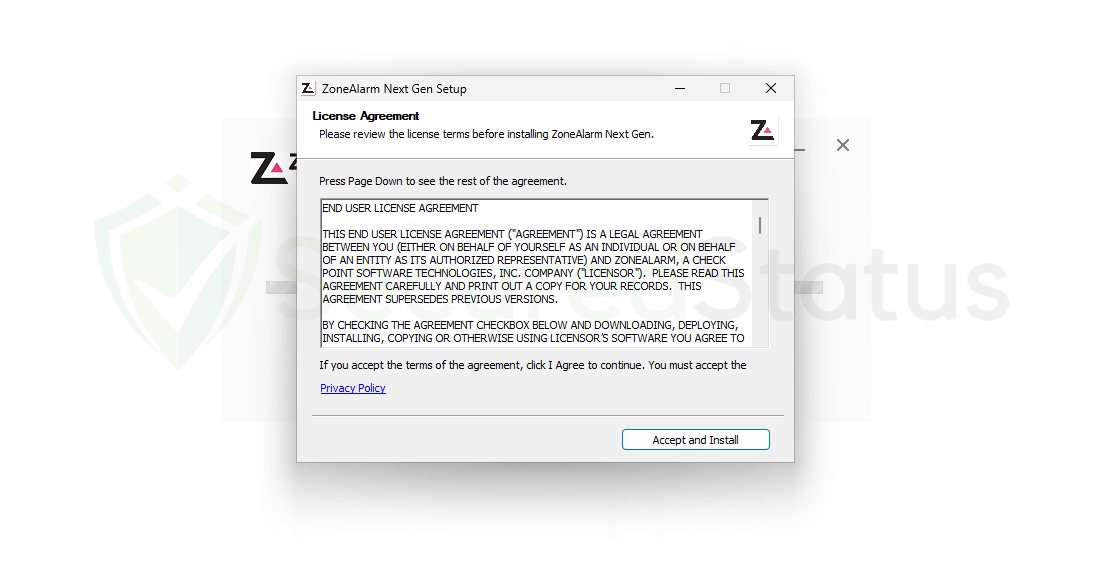 6. The application will display a message stating Installation Completed once the computer's installation of it is complete. Your email address will then be requested so that you may receive product updates, the most recent security news, and special offers. If users do not wish to provide their private email addresses, you can use a temporary email to move forward with the installation without receiving emails from them; after filling out the email box, click Finish to open the ZoneAlarm firewall.
The ZoneAlarm firewall is now fully installed on the computer and will turn on automatically as soon as the installation is finished, requiring no more settings.
As ZoneAlarm will be monitoring all inbound and outbound connections made from the computer to the internet, users no longer need to worry about network breaches and exploits.
Frequently Asked Questions (FAQs)
Following installation, users may have the following frequently asked questions regarding the ZoneAlarm firewall. Since we have reviewed and installed this program as well, we will do our best to respond to these questions so that users can leave this page with their questions fully answered.
Is ZoneAlarm better than Windows firewall?
Technically speaking, there is no question that the built-in firewall in Microsoft Windows is a good solution in and of itself, but since the firm does not focus only on developing firewall and security solutions, the ZoneAlarm firewall is a better choice to use because it has a more sophisticated mechanism and more capabilities.
Users who use the Windows firewall still risk being hacked since hackers focus on discovering weaknesses in the built-in firewall because they are aware that most users do not have a full-featured internet firewall program installed in their computer.
How does the ZoneAlarm firewall technically work?
The way the ZoneAlarm firewall operates is by keeping track of all of the data packets and bytes that are delivered and received from the computer to the internet and back again. It applies predetermined security policies that are known to filter malicious connections.
Additionally, it has a real-time intrusion detection system in place that makes sure to stop any potentially dangerous connections to the user's computer and suspicious actions.
Does ZoneAlarm work with Windows 11?
The most recent Windows 11 patch actually supports the ZoneAlarm firewall, so it functions and works properly. If you wanted to try installing it but were concerned that it might not work for Windows 11, it actually does, and it is also stated on their website's page that it supports Windows 11, 10, and 7.
We even installed and tested the ZoneAlarm firewall in the most recent version of Windows 11, and it is safe to say that it is currently working fine.
Do I still need an antivirus if I have ZoneAlarm firewall?
Even if the ZoneAlarm firewall is already enabled on the PC, we still advise using an antivirus program. That is because a firewall serves as network security and prevents malicious connections, but it cannot do much when it comes to malware that has already infected the system, like ransomware or trojan horses.
To ensure that your computer has the highest level of security on both the network and the computer itself, have both a firewall and an antivirus program. With this, we recommend Kaspersky or Malwarebytes to act as your computer's antivirus, as they have produced good results for many users.