Mullvad VPN is a virtual private network program that stands out from the other VPN programs mostly because it genuinely adheres to the ideals of what a VPN should be.
This is so that users of Mullvad VPN can access the free internet without being subjected to widespread censorship and surveillance by large tech companies and other organizations.
It ensures that you are not being watched and that your privacy is protected for yourself only. Their goal is to provide a service that is privacy-focused.
Why should you use Mullvad VPN?
There are many VPN programs on the market, but if you want to safeguard your privacy and browse the web securely, you should always choose the best choice available. In our opinion, Mullvad VPN is what you should choose if you want to protect your internet privacy,  and here are a few reasons why.
Encrypted Internet Traffic
Mullvad VPN ensures that when you use their software to browse the internet, your connection from the computer to the internet and the website you are visiting is completely encrypted to the highest standard of current technology, meaning that no one will ever be able to determine your IP address or location, despite their best efforts.
Not to mention, even while using a free public WiFi network, which is reputed to have the most vulnerabilities and risks, this method still functions. Due to the fact that free WiFi providers can monitor who connects to their network, cybercriminals frequently pretend to be legitimate hotels and cafes offering free WiFi in order to draw devices to their area.
Even though a VPN network primarily focuses on encrypting internet traffic and every program can accomplish this, they are typically slow and do not employ a very sophisticated encryption method to mask user information. Every VPN program has its own unique set of capabilities, but Mullvad VPN, in our opinion, offers some of the most advanced ones.
Protects your privacy
This is one of Mullvad VPN's best features, and as we've already stated, privacy is what a VPN application should be best at. Data sales to third parties are a typical occurrence, so it should not only be hidden from the websites you are visiting on the internet but also from the VPN application.
Mullvad VPN stands out from the competition because it genuinely values user privacy and supports an open internet. They make efforts to ensure that no such activity logs are kept on the application, and they do not request any personal information during installation, such as an email address, or prompt you to set up an account before you can use the program.
Additionally, if you wish to purchase the program without disclosing your credit card or bank information, you have the choice to utilize cryptocurrency as a payment method. This increases financial security and makes sure you can purchase the program anonymously. They also provide a feature that changes your IP address to one they supply, preventing tracking of your device's activities and known location that can be used to identify you.
User friendly and easy to setup
Nowadays, most people genuinely require a utility application that is clear, simple to use, and quite simple to set up. The majority of applications have quite complicated setup procedures, and the majority of internet users are frequently not very techy in a sense.
This is not the case with Mullvad VPN, because using their application is as simple as downloading it from their website, clicking on the installation file, and waiting for the process to finish. Additionally, the main interface was created for users with little to no technical expertise in mind because it is user-friendly and the button placements are simple to see and use.
The settings page is easily accessible from the main menu, and from the same screen, it is also possible to activate the VPN service with a single click. The VPN makes it simple to switch between locations; all you need to do is select the place you wish to connect to and turn on the VPN. Your connection will then be changed to that location in a matter of seconds.
Helpful support team
A dedicated support team is available at Mullvad VPN to assist you with any issues, as is the case with the majority of programs. They will undoubtedly assist you and have a better understanding of your issue than anybody else because they collaborate with the developers of the program, ensuring that you won't be passed through to someone else in the event of an error.
This is crucial because, in most circumstances with other applications, it would take days to get a response from the team. A support team should normally be knowledgeable and familiar with the ins and outs of the application. However, the Mullvad VPN support team actually knows what to do, and you may anticipate getting a specific solution to your issue with the following response.
Externally audited by different security firms
Mullvad VPN ensures that their software is certified and evaluated by several outside organizations and businesses for security procedures and transparency. This is done to support their claims that their VPN software is privacy-based and to show that, according to reports, this is the case.
Every aspect of the application, its functionalities, and any potential data leaks are subject to security audits. This includes things like their search function, payment options, accounts, DNS servers, and customer data logging, which they did not find any evidence of.
This is done to ensure that what they say is accurate and that they are not reluctant to provide evidence to support it. A thorough review of their application will demonstrate that they are telling the truth and don't have any hidden tracking codes. The majority of legitimate businesses must undergo an audit and pass it in order to protect their real reputation. These days, third-party data is a problem since applications often know much more about users than they should.
Key features of Mullvad VPN
Along with a VPN application, Mullvad VPN offers the following straightforward and practical functions. It also contains a few useful extra tools to enhance the user experience.
IPv6 Feature
The most recent iteration of the internet protocol, or IP for short, is IPv6. In contrast to the conventional IP addresses we have, which look like numbers, this will gradually change the IP address and make it appear different. This new IP is significantly longer than the standard IP and also contains letters.
Additionally, because IPv6 does not parse network addresses, it is faster than IPv4 on network devices. The IPv6 address you use won't be your own; instead, Mullvad VPN will give one to you over the VPN tunnel, which is preferable and safe.
Auto-connect and Launch on start-up
Although this is a fairly common function, a VPN program will benefit from having it. The ability to launch the app automatically on startup is normally something that can be enabled; however, users who are not familiar with how to do this have the feature here so they can toggle it with a single click rather than having to access the settings.
Another benefit is that when the software runs, say from the start-up, it will automatically connect to the server you last connected to, ensuring that you are already protected from the minute you turn on your computer.
Mullvad VPN kill switch
The kill switch functionality, developed by Mullvad VPN, is crucial for preventing traffic leaks outside of the VPN tunnel in the event that your machine or network abruptly stops functioning or if the VPN connection tunnel fails for any typical reasons.
This is to ensure that Mullvad secures your data up until your connection is re-established, preventing the leakage of any past data or connections you may have had before the connection to the VPN was interrupted.
Lockdown mode
Mullvad's lockdown mode ensures that a VPN connection is always required before using the internet or doing any online browsing. Users may be misled by its term because lockdown sounds a lot like a killswitch, but in reality, it ensures that the VPN is always active and was originally known as Always require VPN in earlier versions.
If the disconnect or quit button is pushed while using this setting, the internet will also be blocked. This is required if users wish to only use a VPN to access the internet, but they can disable it if they don't want to.
Click here to access the download page for the official Mullvad VPN website. Once the page has loaded, select your device and operating system from the list of supported platforms, and then click the Download button as seen in the image below.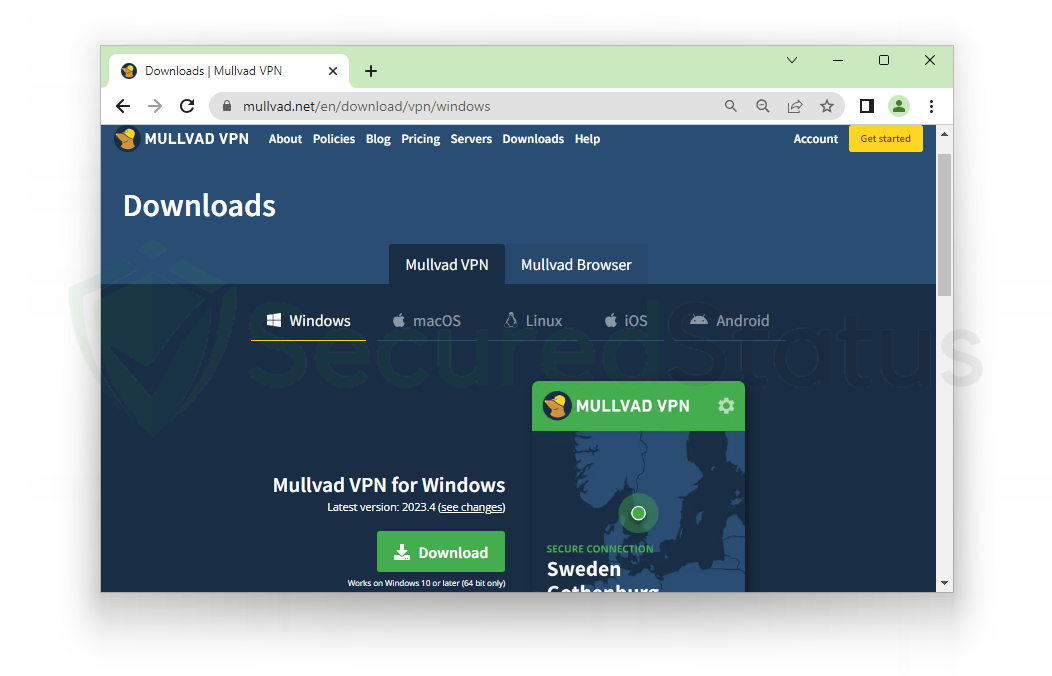 2. The application's setup file will be downloaded to the computer when you click the download button. To begin installing Mullvad VPN on the computer, click the executable file (MullvadVPN-xxxx.x.exe).
3. You will see a User Account Control popup window asking if you want to allow Mullvad VPN to make changes to your device. The publisher has been validated, as can be seen from the image; therefore, select Yes to continue with the installation. If you don't do so, the application won't install on the computer.
4. The installation wizard will then launch and install the application as soon as it starts after you have granted the application permission to make modifications through the User Account Control window. Please wait while Mullvad VPN is installed.
5. After the installation, you will be greeted with a message stating that Mullvad VPN has been successfully installed on your computer. Toggle the Run Mullvad VPN to open the application, then click Finish to close the installation program.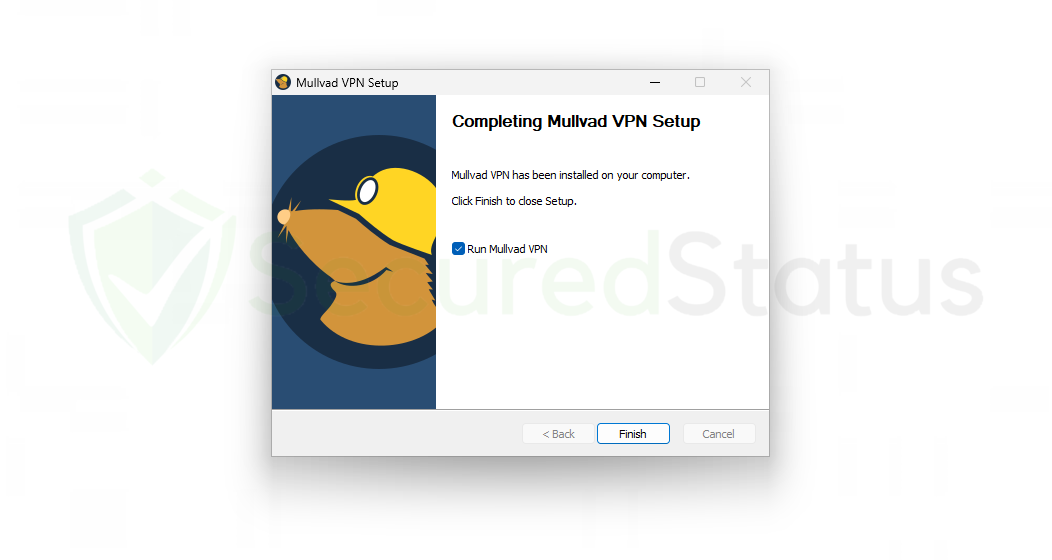 6. The Mullvad VPN program will then launch on your computer and prompt you to create an account using an account number rather than an email address. Although it does not require a password, you should save the account number because you will need it to buy credit and log in to other devices.
7. You must now purchase credits in order to use the program, and as soon as you click the button, you will be taken to a screen that asks you to add time to your account. Please be aware that the program is not free since you will be receiving quality VPN service. You can choose from a variety of payment methods and plans, ranging from monthly to annual, with crypto as an option.
8. When you reopen the VPN client after purchasing a credit, it will show that time was successfully added, and when you click Next, you may now access Mullvad VPN as well as all of its features for the remainder of the plan you have purchased. Any location you choose to connect to will be connected in a matter of seconds once you click on it.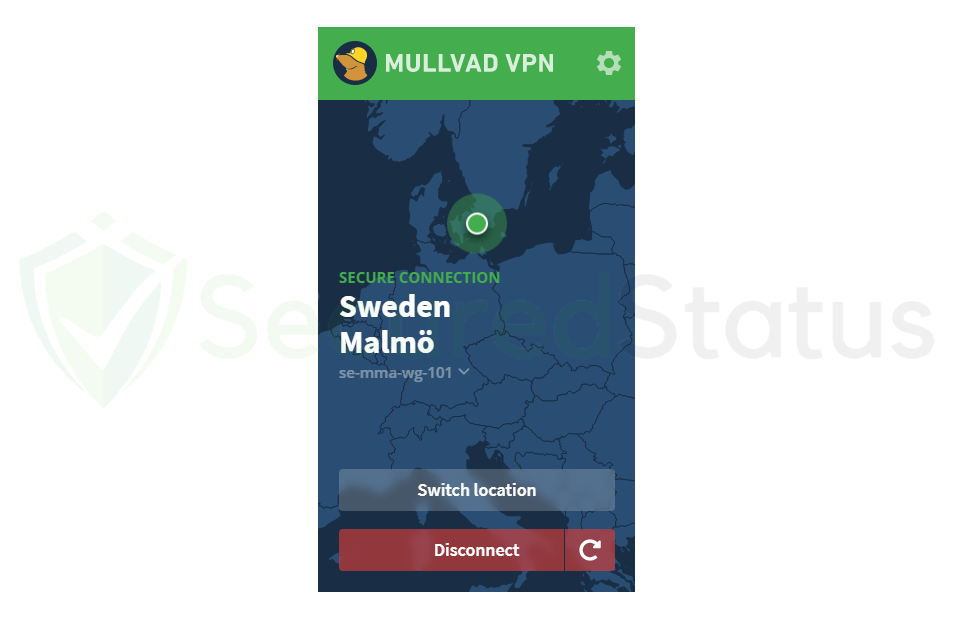 As a result, your connection will now be safeguarded online, and your IP address and other identifiable information will be hidden from the general public.
Frequently Asked Questions (FAQs)
Here are some of the most frequent queries people have regarding Mullvad VPN and our answers to them after downloading and testing out the program ourselves.
Is there a good alternative to Mullvad VPN?
If, for any reason, you don't like Mullvad VPN but still require a VPN tunneling program for internet security, we suggest AirVPN, another top-notch program that is effective at what it does.
In order to ensure that your privacy is protected, AirVPN also supports user privacy and does not log or track data from users.
Does the credit renew itself after it has ended?
You have purchased Mullvad VPN credits, not plans, which means you have purchased the days you choose to use it rather than a monthly or annual plan that will continue after it has expired.
This means that Mullvad VPN will not charge users once the allotted number of days has passed. Users will need to purchase additional time or extend their current subscriptions in order to regain access to the application.
Is web surfing only protected?
Mullvad VPN encrypts and secures all internet traffic, which extends beyond what is sent through your web browser.
This implies that even background activities are hidden and that your location and IP address are changed when you are playing games.
Does Mullvad VPN provide a money-back guarantee?
The VPN application offers a 30-day money-back guarantee, so you can request a refund from the company if you decide that, after paying for the application, you are not satisfied with it.
However, due to anti-money laundering requirements, cash payments are not refundable.
Are speed and bandwidth limited?
In fact, speed and bandwidth are unrestricted, so you may use the application and utilize a VPN tunnel to download as many files as you want, and it won't kick you out.
This is an excellent feature to ensure that you can use it as often as you like and switch between countries as frequently as you want.