AirVPN positions itself as the air to breathe on the actual internet with its impenetrable tunneling system that ensures that malware actors, and even your government cannot eavesdrop on and trace your surfing sessions, communications, or anything else you do online.
Similar to Mullvad VPN, they advocate for privacy to prevent large corporations from tracking you online, and, as their tagline implies, they want people to experience and breathe the true internet.
They strive for complete transparency because they rarely or never gather information on those who use their VPN service. In addition, they ensure that there is no time limit on how long users may use the VPN and that there are no traffic or bandwidth restrictions on visiting their locations when using the application.
Why should you choose AirVPN?
In order to ensure that users are anonymous while they browse the internet with peace of mind knowing their privacy is safe, we recommend AirVPN as a reliable virtual private network.
This is not the only case; understanding the program's openness ensures that they are also abstaining from data tracking and maintaining records of users' past interactions with the application.
Here are some more specific reasons for selecting AirVPN as your primary virtual private network service and application in this day and age of the internet, where privacy is frequently monitored at every turn.
Hides your IP address
This function of AirVPN is quite useful since it not only gives you a fresh IP every time you switch locations, but it also already masks your IP address even when the program is not running. This ensures that you have a primary line of protection for your privacy even before changing your address to one in another data center in another country.
A single IP address can be a source of breach because it can reveal the location and other information about the user's computer, which may result in the breach of personal data as a whole. It is a known fact that any website you visit has the potential to monitor your IP address and the country in which you are located as soon as you access that website.
It does not monitor and log your activities
As we've already mentioned, AirVPN offers total transparency, so to be sure and keep their word, their program does not log the user's visited websites or other online activities, and it most definitely does not have a feature where such data can be logged to prevent breaches as well as to ensure they do not have the ability to collect data from users who use their application.
This is a great feature because a VPN program's main purpose is to shield the user from the internet and all of the trackers that lurk everywhere. The program shouldn't, however, collect information about the user either, which AirVPN makes sure to avoid since it claims to give users a breath of fresh air on the internet.
Perfect forward secrecy
The AirVPN tunneling system uses perfect forward secrecy, often known as PFS, as an encryption mechanism to ensure that users are protected from breaches. It ensures that the encryption and decryption keys used to send and receive data from the user to the internet and vice versa are changed.
This is done every 60 minutes to ensure that a new key is generated, so that if the key is compromised during a particular time period, there will be little to no data exposed due to the constantly changing number of keys generated.
For example, if a user has their VPN activated for 8 hours, there will be 8 key changes, and if a particular hour is compromised, the key for that time period will be the only one exposed, and the rest will be safe. In contrast to using AirVPN, many VPN programs simply employ one key per connection, increasing the risk of data breaches.
Unidentifiable Traffic
Along with having an algorithm key that changes every hour, AirVPN also makes sure that once a user has activated the program and changed their IP and location, it will also be impossible for most systems, including your internet service provider, to identify the type of traffic or device you are using.
The system can track and log a variety of traffic types. User traffic, for example, can record your location, IP address, what you did, and the URL you visited. Bot traffic, on the other hand, is primarily made up of web spiders like those used by Google, Yahoo, and Bing to index new pages. Finally, there are scrapers, who scour an entire website for data.
Given these circumstances, AirVPN ensures that you won't appear like any of that and will instead be depicted as unidentified traffic. With the use of this feature, your IP is kept private and advanced enough to appear unknown to the internet.
clicking here or going to Airvpn.org and clicking the Get AirVPN button as soon as the page loads.
2. You will be taken to a page with step-by-step instructions on how to begin using their application as soon as you click the Get button. The first step is to create an account. If you don't already have one, there is a button to do so.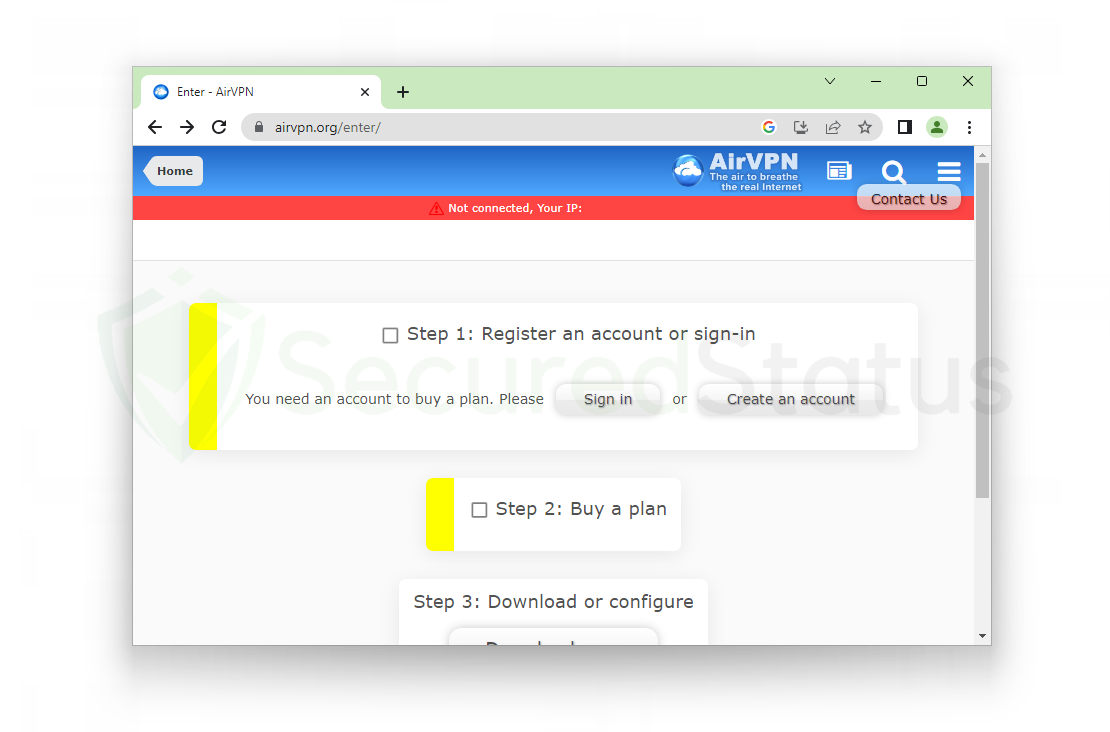 3. A sign-up window will appear in your browser, asking for information such as your email address, but you can also enter a random string of letters and numbers, as noted in the line highlighted below. However, you cannot reset your password if you enter an invalid email address.
4. You will then be prompted to purchase a plan, which can last anywhere between three days and three years, after creating an account. You can select the three-day plan if you want to test it out first. You can rest assured that after a plan has expired, it does not renew.
5. If users wish to keep their payments secure and private, they can utilize cryptocurrencies in addition to a wide range of other payment options, including PayPal, Stripe and various credit and debit cards.
6. You will now be prompted to download the application after purchasing a plan, where you may click the Download area to begin installing the AirVPN software on your computer. Even though the processes appear to be lengthy, most users can easily follow them due to the step-by-step procedure.
7. In order to avoid compatibility errors, choose the system operating platform you are using, the version of your system, and whether it is 64-bit or 32-bit. Next, click the Download button at the bottom to start downloading the installation file.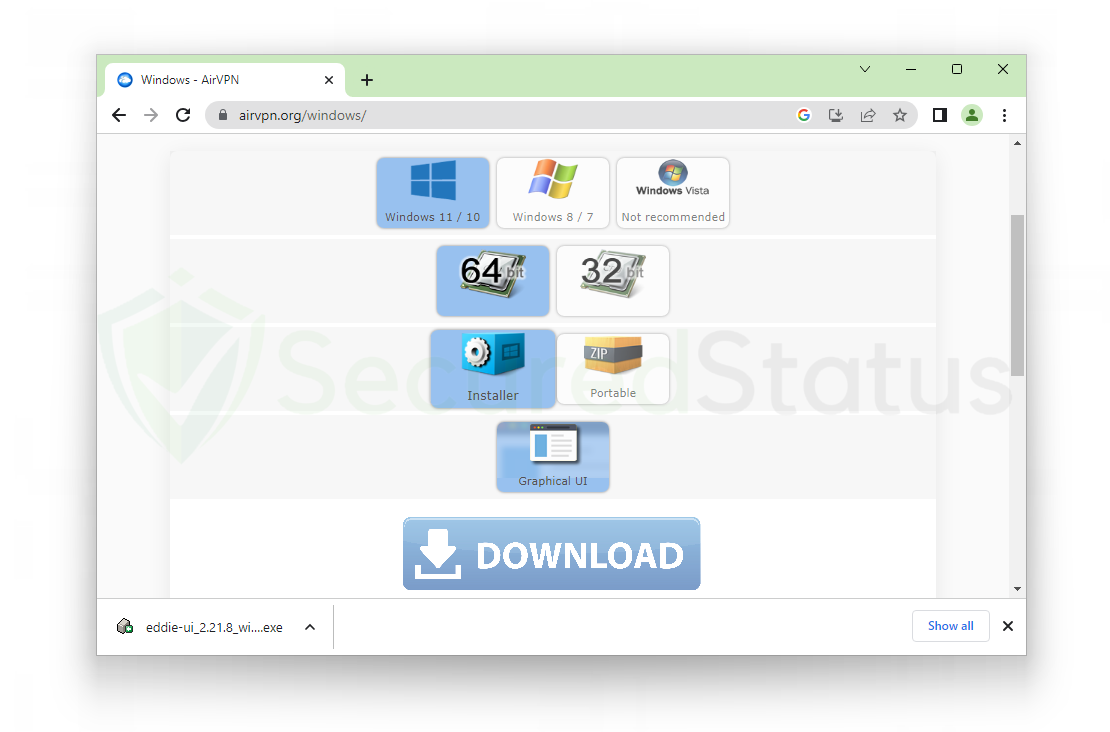 8. After the installation file has finished downloading, run it, and it will then prompt a User Account Control screen asking if you want to allow the app to make changes to your device. It will be named Eddie – VPN Tunnel for Windows, and it is a verified publisher so click Yes to continue with the installation.
9. The computer's installation wizard will then appear; click Next to move on to the next step of the installation and start installing AirVPN (also known as Eddie – VPN Tunnel for the PC client).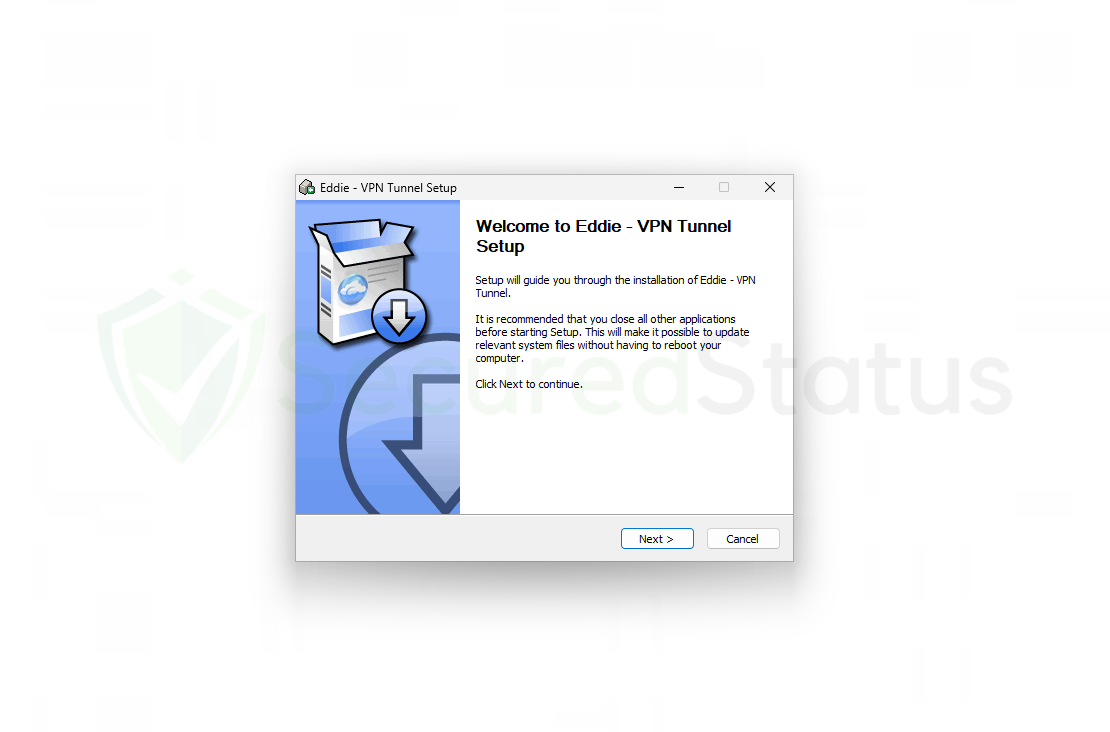 10. It will begin to install after you follow the instructions and agree to the license agreement. Please be patient while the VPN is installed on the computer; the installation will vary depending on the hardware and available storage on the PC.
11. If the program doesn't launch automatically when the download is complete, you may still open it manually by searching for Eddie-UI.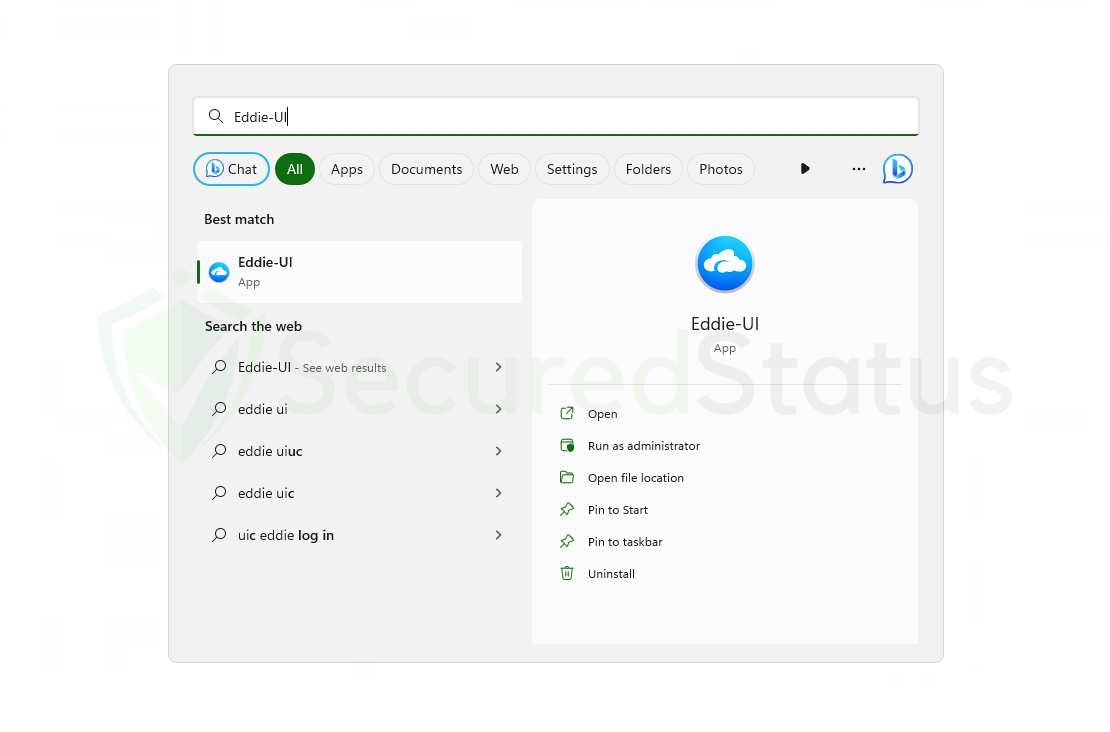 12. Once the application has opened, the servers tab can be found on the left-side menu. It will then display every server that can be used to connect, and you can also see whether or not it is full. Begin connecting by selecting the one you wish to use and checking the box on the right side of the program.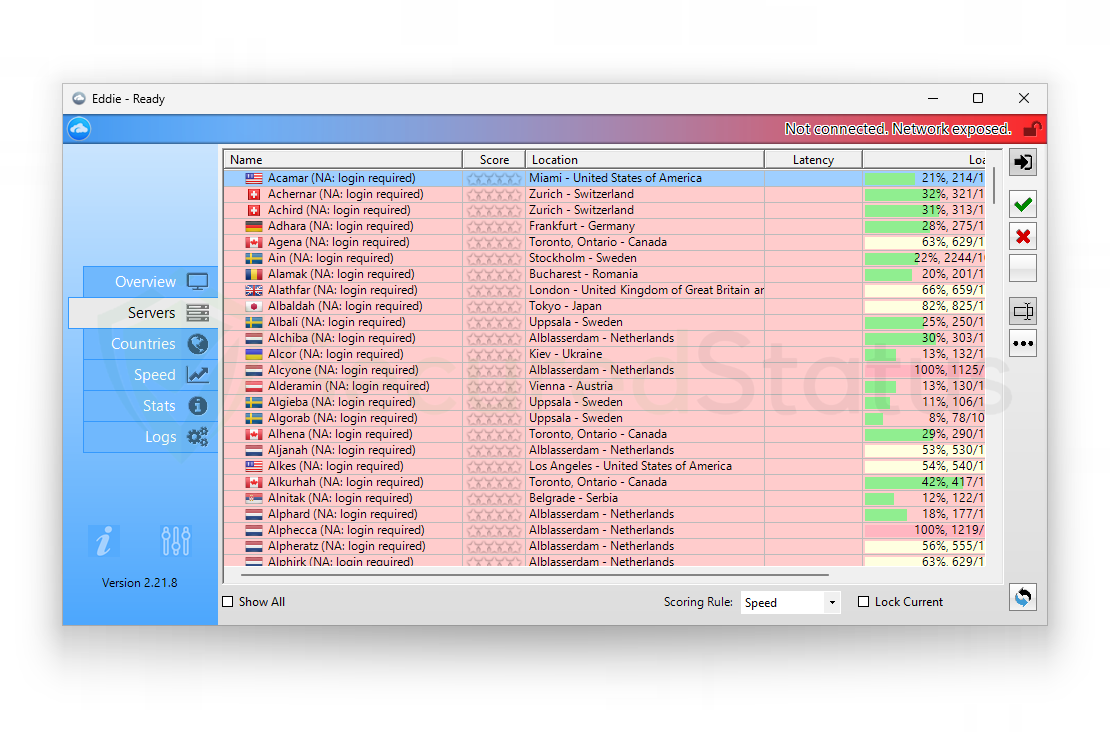 AirVPN has now been installed on your computer and will remain active for as long as your purchased plan has enough remaining time.
Although the application's user interface might look antiquated, it offers fast servers, and you can choose an area that might be vacated to have a quicker connection. Additionally, they have strong security for the tunneling, which guarantees the privacy and security of your data.
Frequently Asked Questions (FAQs)
The most frequent queries that users may have while setting up and using the AirVPN application are listed below.
Does AirVPN keep session or tracking logs?
As we've already mentioned, AirVPN promises a breath of the real internet, which mostly explains why they don't utilize tracking and logging technology that may identify a user's identity as well as their network and browser activity all at once.
How many connections can I have on one account?
A single AirVPN account that is created using the aforementioned steps can have up to five connections to different VPN servers.
Additionally, you can modify and configure the computer to serve as a gateway for all devices to share access to the VPN if they are all connected to the same network. However, you will need to purchase additional subscriptions on a new account if you require more than 5 connections.
Is there a speed limit on AirVPN?
Since AirVPN has no speed restrictions, you can watch as much as you like in all countries. However, you should keep track of a server's user count to see whether it is occupied or not, as this can impact internet connectivity.